September – October – November 2019
Summary
Preview Cannes Yachting Festival
Europe's largest boat show stands out this year by reserving the whole of the old port of Cannes for motorboating. The 42nd edition should set a new record in terms of new boats exhibited.
Preview of the Monaco Boat Show
Every year, the city of Monaco becomes the capital of great yachting. Here is a selection of a few units that should be among the stars not to be missed in the next edition.
World Yachts Trophies 2019
Surely the most awaited issue of the year by all yachting professionals and for many yachtsmen attentive to the different values of quality aesthetics and technology that we have been defending for more than 33 years in our magazine.
SHIPYARD: Sirena
In less than three years, the Turkish manufacturer Sirena Yachts quickly established itself in the world of powerboating by launching a new concept that combines performance, habitability and efficiency. The discovery of the new Sirena 88 confirms the reasons for this success.
COMPARATIVE: The 65′ Sportfly Match
Sporfly is a concept that emerged a little less than ten years ago. Combining sportiness, fly and very often a hard top, the sportfly range seduces more and more amateurs who express the desire not to sail fast in the open air.
PRESTIGE: Pershing 140
With this new 43-metre all-aluminium building, Pershing makes an entrance
remarkable in the world of superyachts. On the menu: aesthetics, technology and performance.
Yachts on the test bench
TEST MCY 70
The latest evolution of the Monte Carlo Yachts 70 launched just under ten years ago reveals a great many changes and improvements that we invite you to discover in this essay written by our Italian expert Roberto Franzoni.
TRIAL: Canados 120 Caesar
Built in Rome, its patronymic, which refers to the famous emperor who reigned as master over the city, does not seem to be usurped. With 70 years of experience, the Canados shipyard brings a perfect symbiosis of luxury and technology aboard this new model.
See the tests published in this issue
The latest yachts tested by our experts
Magazine available in digital version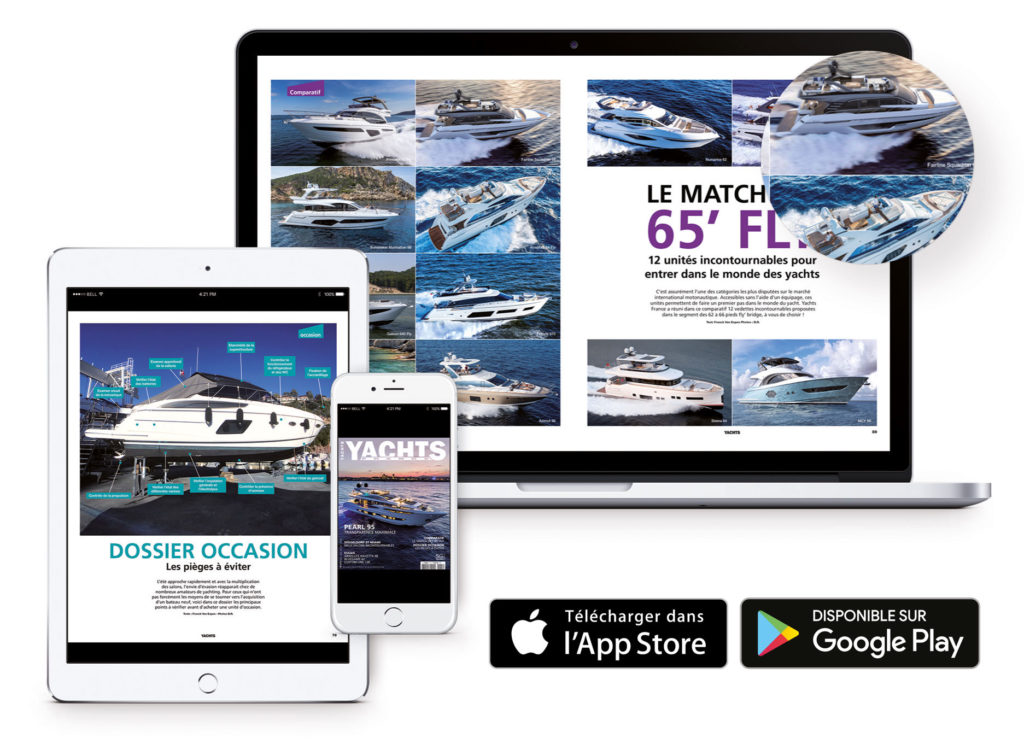 To each his own way of reading Yachts France
For the paper version, go to the newsstand.
For the digital version, 2 ePress or Cafeyn platforms
to read on your mobile phone or tablet.