Contents
BOAT SHOW: Boot Düsseldorf 2019
For its 50th anniversary, Boot Düsseldorf once again confirmed its title as Europe's largest indoor trade fair.
BOAT SHOW: Miami Boat and Yacht Show 2019
Discovery of a totally different universe in which outboard super powers and mega sport-fisherman reign, two concepts that are sorely lacking in France.
OCCASION
After the boat shows in Miami, Düsseldorf and Dubai, which in a way mark the end of the winter period, here is the arrival of the second hand boat shows for those who cannot always afford to buy a new boat. To avoid making a mistake, Yachts France gives you its advice as an experienced yachtsman.
COMPARATIVE: The 65′ fly game
This is certainly one of the most contested categories on the international motorboat market. Accessible without the help of a crew, these units allow a first step into the world of yachting. Yachts France has brought together in this comparison 12 unmissable launches in the 62 to 66 foot fly' bridge segment.
PORTFOLIO: Oceanco 90m DAR
Displayed on the quay off the coast of the Principality of Monaco and after winning the Yacht of the Year trophy, the Oceanco DAR is without the slightest hesitation the most incredible mega-yacht of the year 2018. Discover this ice palace in which luxury reaches new heights.
Yachts on the test bench
TEST Absolute Navetta 48
Still propelled by pods, the Navetta 48 marketed by the Italian shipyard Absolute offers an excellent compromise between a classic flying boat and a trawler.
TEST Bluegame 62
A new genre in the watercraft landscape, the 62 Bluegame can be considered a luxury SUV (Sport Utility Vessel) designed for sea and water sports enthusiasts.
TEST Pearl 95
Born just over 20 years ago in England, Pearl is a real outsider against the three mastodons Princess, Sunseeker and Fairline. Well thought out and innovative, this new 95 may well do well.
TEST Custom Line 120
Last born belonging to the planing series of the Italian manufacturer Custom Line, this 120′ designed by Francesco Paszkowski is a great technical and aesthetic success.
See the tests published in this issue
The latest yachts tested by our experts
Magazine available in digital version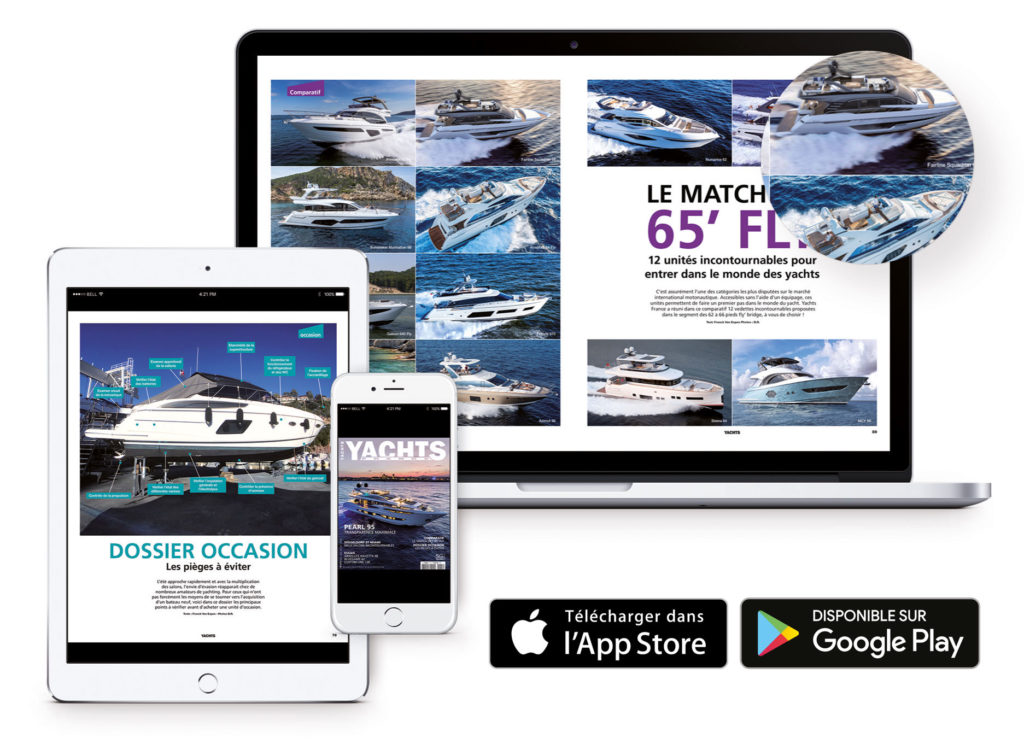 To each his own way of reading Yachts France
For the paper version, go to the newsstand.
For the digital version, 2 ePress or Cafeyn platforms
to read on your mobile phone or tablet.